Light Sources
TracePro simulates the distribution of luminous intensity, irradiance/illuminance, and flux throughout a model or at selected surfaces by tracing rays using the Monte Carlo method. Light sources are modeled by emitting rays. Additionally, TracePro's Surface Source Property Utility enables graphed surface source properties to be imported directly from a manufacturer's datasheet. Ray sets are defined using any combination of three methods:

• Grid – specify spatial and angular beam profile, wavelengths, and dimensions along with beam orientation, polarization state, and degree of polarization.
• Surface – specify angular distribution and emission spectrum from one or more surfaces of any solid object using luminous flux or irradiance/illuminance. Surfaces can also be defined as blackbody or graybody radiators. Any combination of surfaces can be defined as sources.
• Ray File – predefined ray tables consisting of XYZ starting points and direction vectors, polarization states, wavelength data, and the initial flux value or Stokes vector for each ray. Ray files are typically created from source measurements or theoretical calculation.

Analysis and 2D - 3D Optimization
TracePro provides a comprehensive set of tools to view and analyze results of the ray trace, including:
• Irradiance/Illuminance Maps show irradiance or illuminance, CIE, and true color maps of light incident on, absorbed by, or exiting a selected surface.
• Luminance/Radiance Maps can be displayed as true color based on the wavelengths traced.
• 3D Irradiance Plots map irradiance, CIE, and true color plots of the incident, absorbed, or exiting flux onto the selected surfaces or objects in the system view.
• Candela Plots show luminous or radiant intensity in candela or watts/steradian.
• Polarization Maps chart the polarization ellipse for the incident flux onto the selected surface.
• Incident Ray Tables provide tabular output of rays incident on a selected surface.
• Ray History Tables give a complete history of every ray incident on a selected surface.
TracePro offers 2D symmetric and 3D non-symmetric optimizers that enable quick specification of a starting design and interactive control- and segment-point specification. The optimizers have built-in interactive ray tracing tools to quickly diagnose the feasibility of a design, pulling on a control- or segment-point automatically updates any ray trace. TracePro's optimization process rapidly determines the feasibility of the design, while also allowing results to be continuously monitored and used for subsequent refinement of the model. Complex non-symmetric designs are supported with the 3D optimizer, which is perfect for designing unusually shaped complex lightpipes and LED lenses.
Texture Optimization
TracePro offers the Texture Optimizer, which allows you to optimize the distribution of scattering dots on a backlight. First define a target irradiance distribution, then define a starting point distribution of dots. The optimizer will adjust the density of the dots to achieve your target distributions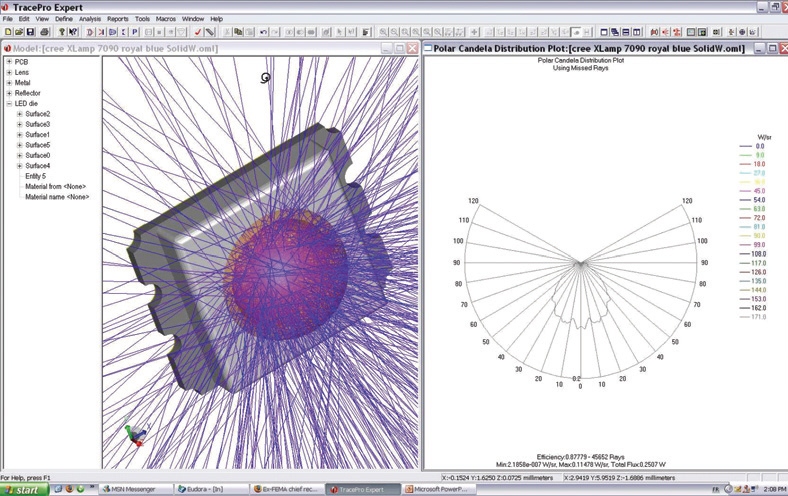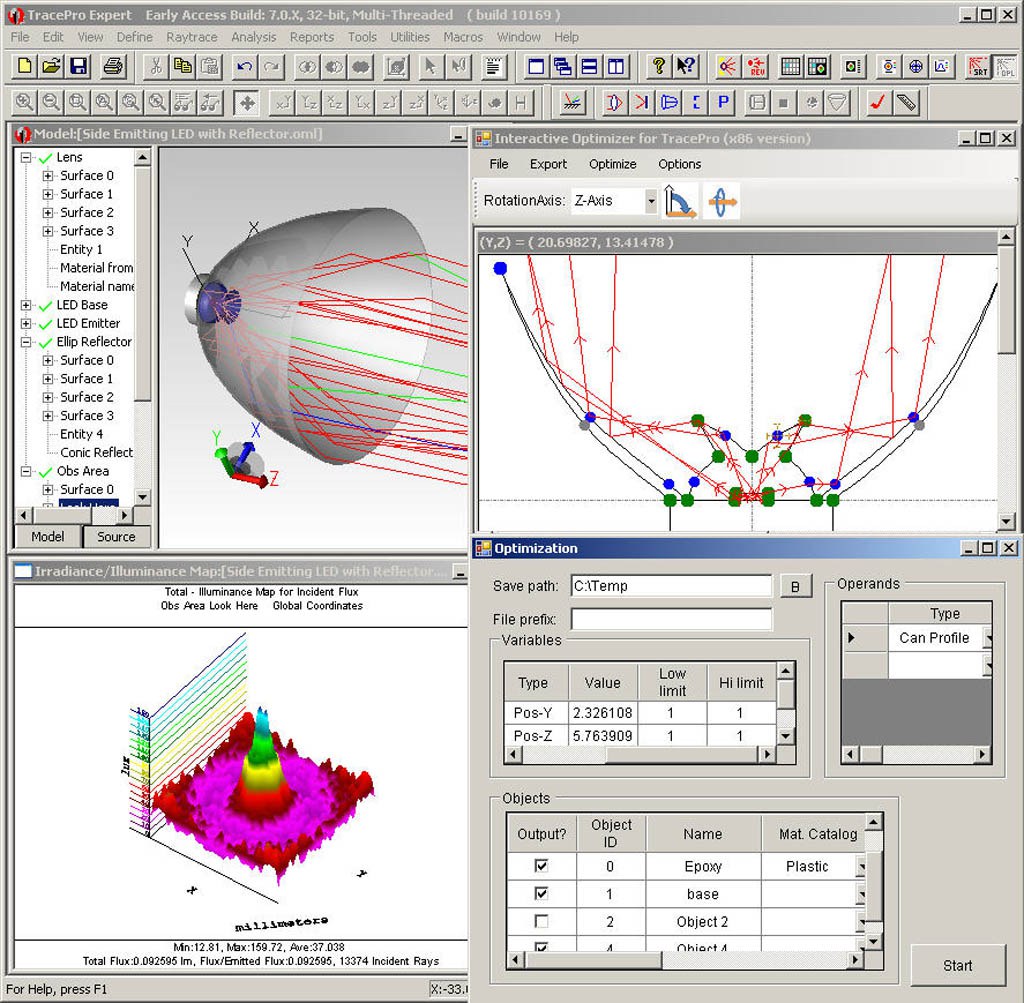 Visualization & Rendering
TracePro has several surface and ray display options that help identify problem areas and visualize energy propagation through any optical or illumination system. Large and readable irradiance/illuminance and candela plots with linear or log scales, several color palettes, profiles, and 3D viewing options enable understanding of the flux or irradiance on any surface. TracePro's Photorealistic Rendering feature uses source and optical properties of the model and real ray tracing and photon mapping algorithms to enable you to visualize your design's lit appearance from any position.

CAD Integration
TracePro offers seamless integration with SolidWorks using the TracePro Bridge™ for SolidWorks, an add-in to SolidWorks that allows optical properties to be added and saved directly to the SolidWorks model, preserving mechanical and optical properties as models are exported from SolidWorks to TracePro. As a result, design productivity is dramatically improved without sacrificing performance or functionality.
Reporting
TracePro can generate a variety of ray trace and property reports. For example: Flux Reports provide a summary of surface area, number of incident rays, incident and absorbed flux, and lost flux for all defined sources or as a function of the selected source or wavelength. Bulk absorption and incident flux are displayed for each object. Property Data Reports display the model's optical surface and object property definitions. Ray Trace Reports display physical and virtual memory usage and elapsed ray trace time.
For detailed document click here