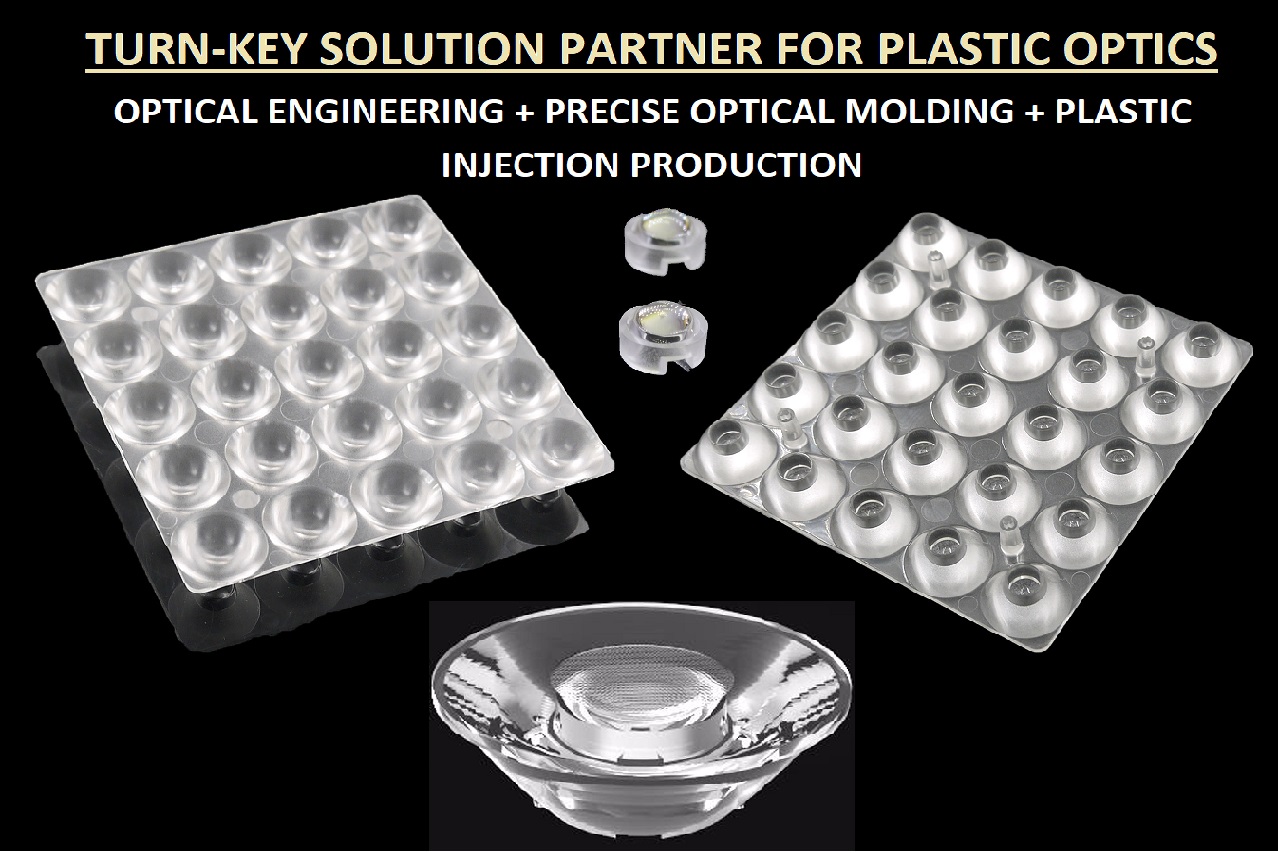 Turn-Key Solution Partner for Plastic Optics
Optonom assists you to realize your project related to any type of plastic optical component. We can produce injection molded aspheric lenses and free-form lenses, and mirrors, as well as Fresnel and diffractive optics. We provide turn-key solutions like "OPTICAL ENGINEERING + PRECISE OPTICAL MOLDING + PLASTIC INJECTION PRODUCTION" with related international standards.

Advantages of Plastic Optics Technology
The use of precision polymer optics is becoming an increasing necessity today as products demand sophisticated light handling components to achieve desired results. Polymer optics can be thought of as an important enabling technology allowing the successful development of many types of devices.

What distinguishes polymer optics from their glass alternatives is the ability to combine optical surfaces with mounting features on an economical basis.Precision polymer optics, manufactured by injection molding techniques, has been a key enabling technology for several decades now. The technology, which can be thought of as a subset of the wider field of precision optics manufacturing, will be pioneered globally by Optonom Optical Engineering Solutions.

Plastics optics are becoming more popular as time goes on. The three main types of plastics used in making lenses and other optics are polystyrene, polymethyl methacrylate (also known as PMMA or acrylic), and polycarbonate. Polystyrene is usually used in very inexpensive applications while acrylic and polycarbonate are often used in more demanding applications such as automotive head lamps and tail lamps, indoor lighting and outdoor lighting, and a host of consumer electronics such as gaming systems. The use of plastics enables the optics to be injection molded at very low prices, especially when large volumes are required.

Other advantages of plastics over glass or other materials are:

Greater design freedom
Lower cost in high volumes
Ability to incorporate a wide array of mechanical assembly features into the optic
Lighter weight
Shorter lead time for a few prototypes when using diamond turning equipment

Disadvantages include

High mold costs and mold lead times
More susceptible to shape variation due to thermal changes than glass optics.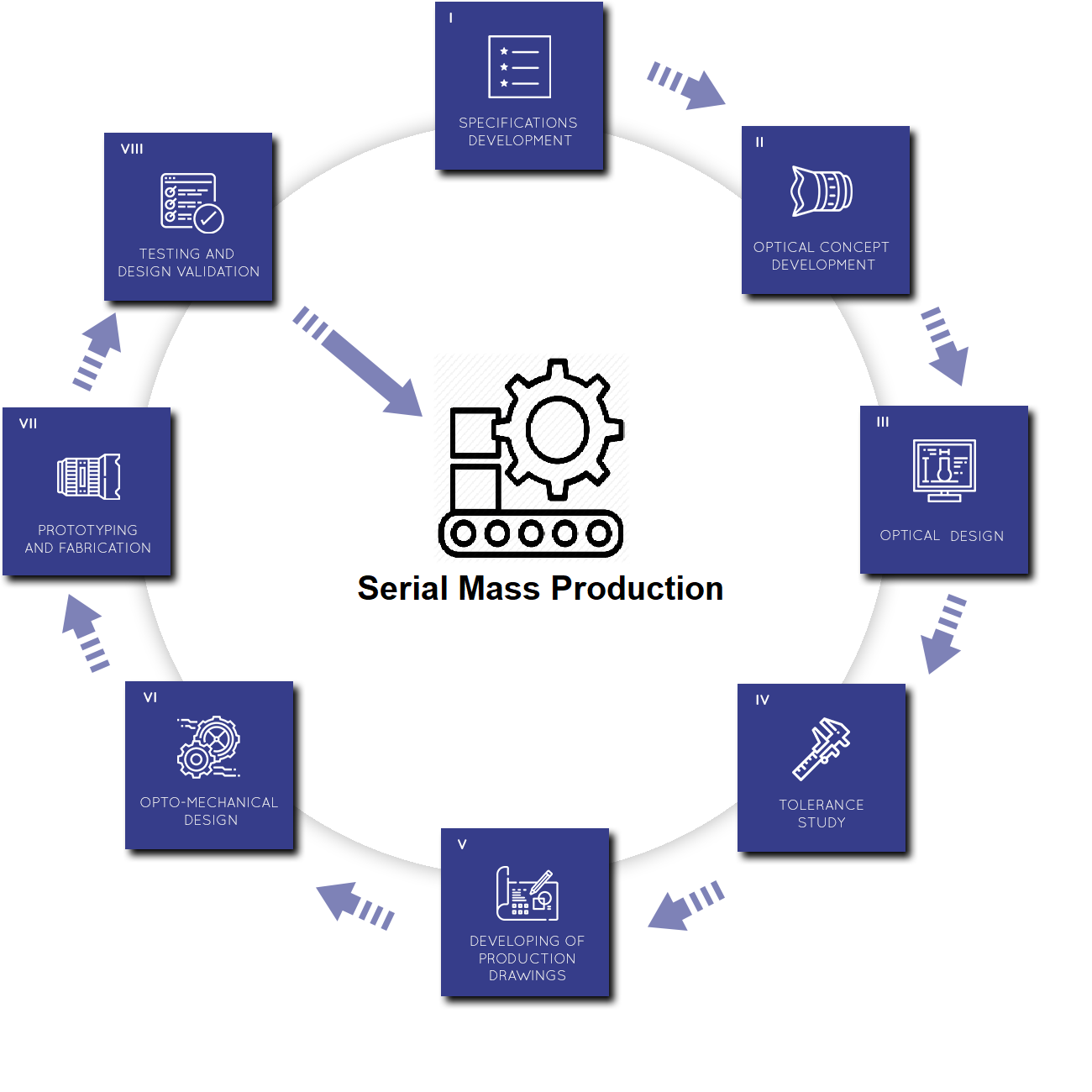 Available Polymer Materials

Wide variety of materials including:
Polycarbonate
Cyclic Olefin Polymer – Includes Zeonex and Zeonor
Cyclic Olefin Co-polymer – Trade name Topas
Polystyrene
Acrylic
Optical Polyesters like OKP4

Advanced automated injection-compression molding machines, which also feature integrated custom built robots for picking, de-gating and moving parts from the mold machines to the next stage of processing. This provides for continuous "lights out" operation during the molding process and thus ensuring uninterrupted flow of repeatable parts to achieve the lowest costs possible.

Freeform, diffractive, Fresnel lens and lens array optics available.Freeform optics can offer you numerous advantages for complex beam shaping. We are able to direct diamond turn freeform surfaces in our diamond turning lab for prototypes as well as mold inserts for higher volume production while meeting challenging requirements for optical form, mid-spatial frequencies, and surface roughness.


Polymer based optics are also able to use for several areas like:

Military optical sensor systems
Missile guidance systems
Polarimeters
Spectrometers
Automotive sensors for self driving cars
Interactive gaming system optics
Head Mounted Display systems
Automotive Head Up Display systems
Optics for indoor and outdoor lighting systems
Automotive head lamp and tail lamp lenses
Optics for medical applications such as blood sugar monitoring systems
Beam shaping optics to homogenize a laser beam
Anti-reflective, reflective, hardness, hydrophobic, and band pass filter coatings
Machine vision systems for product inspection
Space applications
Aerospace applications